and what is our signature drink here at Stix and the City? why it's the cosmopurlitain!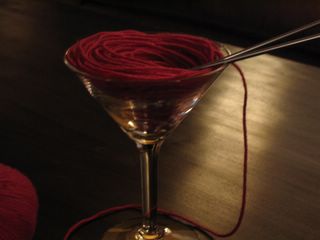 so what did I do tonight, since I didn't have a class to go to? Nothing- and it was everything I thought it would be. I worked on the Hoover blanket a little bit, while watching Monty Python and the Holy Grail. Hoover is a sloooooow pattern. Since you knit both sides at the same time, you have to hold two yarns simultaneously, while only knitting or purling one. I have to go so slowly in order to hold on to everything and not screw up the tension. The baby for whom the blanket is intended was born last night, so I better hurry it up...
I have to work tomorrow :( Hopefully there will be time to run over to JoAnn's and buy a ribbon for Tempting before I have to settle in to my homework for the week...